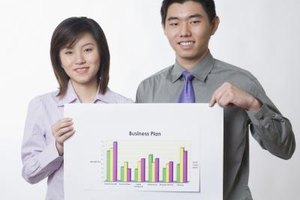 Businesses often require funding upon start-up or in fast-growth periods. Traditional funding sources include obtaining bank loans or selling stock in the company. Financial institutions often require long, detailed business plans to support the business' claims that it will be capable of repaying the money. However, a small business may desire to pursue less-traditional funding sources, such as loans from friends, family members, business partners or individual investors. These nontraditional sources may require a shorter business plan that gives a clear and concise overview of the business without overwhelming the layperson with financial data and jargon.
Short-Form Business Plan
Small-business owners commonly use the short-form business plan to pique a potential investor's interest in their firm. Investors are often busy people who do not want to waste time wading through numbers and financial forecasts. When you first approach a potential investor with your short-form business plan, your main priority should be to influence the investor to want to learn more about your business proposition. You may eventually be expected to produce a full-length business plan to clinch the deal, but for now, you should consider your short business plan the hook that should grab the investor's attention.
Unique Selling Proposition
One way to catch the nontraditional investor's attention is to offer a unique selling proposition (USP). The Entrepreneur website defines a USP as "[t]he factor or consideration presented by a seller as the reason that one product or service is different from and better than that of the competition." In other words, your short business plan should articulate why you believe your investment opportunity is better than any others the potential investor may be considering. You should include the USP in the title of your short business plan to ensure the potential investor feels compelled to read the rest of the document. A boring title lacking a unique selling proposition may result in the investor tossing aside your short business plan in favor of a more interesting prospect.
Features
According to the Small Business Finance Tips website, your short business plan for nontraditional funding should include a few essential elements. In addition to an attention-grabbing headline, you should also include the name of your business as well as a concise description of why your business exists. Provide a brief history of your business, including how it came to exist, how it got to its current position and where you envision the business in the future. Discuss your market and any opportunities you hope to take advantage of. Provide brief financial projections as well as an overview of your management team. Finally, inform your potential investors of the amount of money you require.
Considerations
While a short business plan may suffice when seeking nontraditional funding, in most cases, you will eventually require a more detailed, full-length business plan. The business plan serves many functions, one of which is to force you to put your plan in writing and identify potential problems in advance of implementing the plan. Whether or not you choose to use your small business plan as a starting point for a full business plan, it is essential to complete all research required for the full-length plan before meeting with potential investors. Otherwise, the investor may ask questions you are unprepared for and leave the meeting with the impression that you are unprepared to proceed with your plans.
Photo Credits
Jupiterimages/Comstock/Getty Images