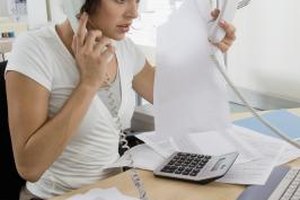 Short-term disability coverage provides replacement income if a worker cannot work for an extended period of time due to an injury or illness. This type of insurance is typically an employer-provided benefit and the employer determines the criteria for employee eligibility. No one expects a long-term illness or an injury that keeps him home from work, but it is a good idea to review the short-term disability plan provided by your employer before you get sick.
Definition of Disability
For most employer-provided short-term disability coverage, the determination of a disability is made by the employee's healthcare provider. If the doctor states the employee cannot work for a period of time, that is enough proof that the disability exists. The doctor or other healthcare provider will probably have to provide written explanation of why the employee cannot work and the course of treatment being undertaken. The employer or insurance company handling the short-term disability claim will need a signed statement from the doctor before any benefits are paid.
Waiting Period
The short-term disability coverage will have a waiting period before benefits start to be paid. The waiting period is a time limit where the employee is out of work due to injury or illness and no benefits are paid. The waiting period can range from one week as long as one month, depending on the coverage provided by the employer. An employee who is out of work will be expected to use any available sick days or vacation time before short-term disability coverage starts. Usually, using sick and vacation days can run concurrent with the waiting period. As an example, an employee with five sick days and an 10-day disability waiting period would be paid for the five sick days, then have five days without pay before payment under the disability plan starts.
Benefit Levels
Short-term disability benefits are a percentage of the employee's salary for a maximum period of time. Benefit amounts usually range from 50 to 75 percent of the employee's regular wages. Short-term disability payments for a maximum of six months is a common time limit, but some employers may pay short-term disability for up to one year. It is important for an employee to understand that short-term disability payments will be less than the her regular pay. The disability payment is a temporary benefit to assist an employee until she is well enough to return to work.
Other Considerations
While an employee is on short-term disability, the employer has the right to request status updates from the employee's doctor. The employer may even have the employee consult with a doctor chosen by the company to confirm the diagnosis. Short-term disability coverage is usually only available to full-time employees. Five states: California, Rhode Island, New Jersey, New York and Hawaii, have state disability programs for employees of companies doing business in these states at publication. The state plan may provide the only short-term disability coverage or an employer may offer supplemental insurance to the state plan in these states.
Photo Credits
Pixland/Pixland/Getty Images