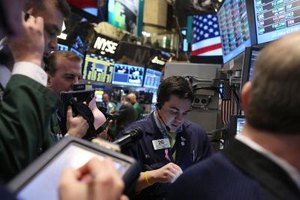 A merger does tend to affect stock prices. Typically, once a transaction is unveiled, the market value of the target company, which is the business being acquired, rises as investors celebrate the prospects of the deal. The acquiring corporation, which is the organization accepting the assets and liabilities of the target company, tends to lose market value throughout the trading session immediately following a merger announcement.
Process
When a merger deal is revealed, the transaction typically becomes complete only after the support of influential parties is apparent. Regulators must approve the combination and public shareholders are also able to cast a vote in support of or against the deal. Until these hurdles are crossed, the stocks of both companies involved in the merger usually continue trading separately. Once an acquisition becomes official, both companies usually begin trading under the same stock symbol on a pre-announced date.
Consideration
While investors often cheer the news of a merger by purchasing equity shares, sometimes they are less welcoming. For example, in February 2011, Deutsche Boerse, a German exchange, announced its acquisition of the New York Stock Exchange Euronext in the U.S. In the months that ensued, the transaction, which was to be financed with stock, lost worth when the market value of the German exchange plummeted some 40 percent, according to an article on the Bloomberg website.
Sentiment
Consolidation in an industry can benefit companies that are not directly involved in a merger transaction. For instance, in 2011, when energy company Superior Energy Services announced its planned acquisition of Complete Production Services, the market share of the target company rallied nearly 40 percent. Investors also rewarded other stocks in the oil services segment as the group as a whole rose almost 5 percent. The positive sentiment was partly due to the energy deal, according to Market Watch.
Strategy
Some professional investors are so convinced that the direction of stock prices will perform a certain way after a merger, they bet on it. A strategy used by hedge fund managers, who are expert traders, is merger arbitrage. It involves placing a long bet on the stock of a target business in anticipation of a rise in the market value. Also, fund managers place a short position on the acquiring company's stock in hopes to profit from a short-term decline in that equity security.
Photo Credits
Spencer Platt/Getty Images News/Getty Images