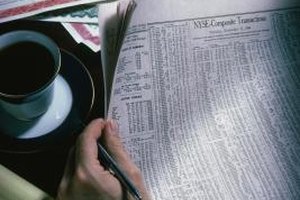 Business investors carefully research opportunities before committing their money to a particular strategy. Understanding some of the resources available for business investors is important to improving the odds of an investment's security and success. Much of the information on stocks, commodities and bonds is publicly distributed and widely available on the Internet. In the past, investors had to rely more on analysts and financial planners to review annual reports and conference calls.
Basics of Investment Resources
Research is an important part of investing -- both for fundamental and technical investors. In either case, some of the most important resources are available online from the federal government, which provides access to annual reports, financial statements and mandatory securities filings for mergers and acquisitions. Other information, as well as investment analysis, is available from media organizations and stock brokers. Increasingly, important investment information is available from Internet search engines and blog sites.
EDGAR Database
The online resource database of financial statements and other investment information maintained by the Securities and Exchange Commission is called the Electronic Data Gathering, Analysis and Retrieval System, or EDGAR. EDGAR is available at the SEC website and has been used since 1993 by publicly traded companies to file and publish their financial reports. Annual reports, financial statements, quarterly earnings reports, acquisition documentation and public trade disclosures are all available through EDGAR. Investors are entitled to free use of EDGAR resources, so sites requiring subscriptions for access should be treated with caution.
Search Engines and Stock Screeners
Internet search engine companies are increasingly involved in investment research resources. Some of these websites not only provide access to financial documents and analyst reports through the Internet, they also offer free stock screening tools that allow investors to search for investment opportunities based on specific criteria they're interested in. The quality and availability of these resources varies, and some of the screening or search tools are also available through financial news websites. Stock screeners can be an valuable search tool for narrowing opportunities down by market capitalization, volume or 52-week price changes, for example.
Brokerage Resources
Many similar resources -- including stock screeners -- are available from online brokerages. Unlike search engines or the SEC, these resources allow investors to place immediate orders and usually offer real-time price information about publicly traded stocks and commodity futures. According to BusinessWeek, some of these resources provide "have a proprietary stock-rating systems" designed by the brokerages that even outperform the ratings systems of major investment analysis companies, such as Standard & Poor's.
Photo Credits
Jupiterimages/Photos.com/Getty Images