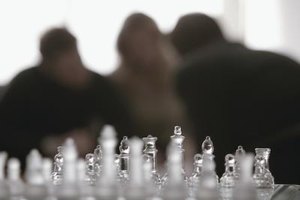 Company A could enjoy a strong position within the marketplace, buyer and seller may agree in principle on a valuation, and the stock market will cheer the proposed premium over the current price. Yet one of the key sticking points in any merger or acquisition is how much working capital remains after the deal closes. Many variables abound, from a downturn in the economy to unanticipated competition, and companies without sufficient money to operate effectively open themselves up to the risk of stagnation or failure.
Working Capital
Mergers and acquisitions involve the integration of management and staff, administrative functions and product lines. The resulting employee buyouts and increased manufacturing capacity, for example, require immediate funding with the expected savings and increased revenues not coming until the next fiscal year. If the acquiring company used most or all of its available financing on the transaction itself, it must rely on working capital from the takeover target or go into debt to finance operations. Post-merger funding must be adequate to address all possible contingencies.
Valuation
Companies seeking to merge with or acquire other businesses generally use accepted valuation measures such as earnings before interest, taxes, depreciation and amortization (EBITDA). If a takeover candidate has $5 million of EBITDA and its industry supports a multiple of 10, the company is worth $50 million. The buyer, however, may balk at that figure unless enough cash is left on the acquired company's balance sheet. Establishing these parameters from the beginning will move the deal ahead and accurately value the business.
Accounts Receivable
A business may have strong sales with increasing revenues each quarter, but if accounts receivable take an average of 90 to 120 days, the acquiring company would be reasonable to demand three to four months of working capital on the seller's books. That scenario may be reliable in a strong economy, yet bad debts and write-offs may substantially increase if customers struggle to pay their invoices. The quality of accounts receivable must be reasonably assured to avoid unanticipated risks.
Debt
Many companies are built with bank loans and other forms of leverage, so they may carry high debt levels on their balance sheets, regardless of their quarterly profit numbers. Corporations that initiate mergers and acquisitions typically try to ensure the lowest possible debt remaining after consummation of any deal, and part of the proceeds may be earmarked to pay off bank loans and bonds. For example, a $25 million transaction may provide $20 million to current shareholders and $5 million to pay off an outstanding bank loan. Not only does this eliminate debt, it also increases profits by removing interest payments.
Photo Credits
Comstock/Comstock/Getty Images