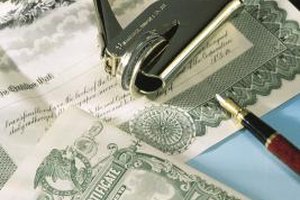 When you look at the numbers, the allure of stocks is undeniable: Since 1929, the S&P; 500 Index has returned annual gains of 9.4 percent. That means that historically, the stock market has been a good place to invest your money over the long term to grow your capital. But if you want to grow your capital and receive an income at the same time, you may want to consider adding shares of dividend-paying stocks to your portfolio.
Income Stocks Add Gains
Company's that have solid financial footing offer dividends. It's a direct measure of a company's value. And picking top performers can give your portfolio a defensive position against market downturns. For example, the S&P; 500's High Yield Dividend Aristocrats, a collection of 60 stocks that have had an increase in dividend payments 25 years in a row, has posted gains totaling over 165 percent since the 1999 launch of the index.
Taxes
You pay capital gains taxes on dividends. But if you put your dividend payers into a tax-deferred retirement fund, such as an IRA, you'll pay taxes only when you withdraw the funds. And if you're looking for a break, Uncle Sam has a deal for you. According to the the Internal Revenue Service, qualified dividends receive a special tax rate. The IRS has a worksheet for investors to complete as a substitute for the schedule D capital gains and loses paperwork.
Diverse Fund Choices
You can have your cake and eat it too with dividend-paying stocks. Funds that cater specifically to dividend-paying stocks are popular among investors. Mutual funds and exchange-traded funds with ready made dividend payers can eliminate the task of selecting single stocks for your portfolio. Expect even higher yields if you have a fund with international exposure, because foreign companies generally edge out U.S. corporations in dividend payments.
The Dividend Reinvestment Program
Increase the value of your dividend rewards one drip at a time. Using a dividend reinvestment plan (DRIP), you can have your dividend payments automatically allocated to purchase more shares of the company, therefore growing your portfolio by reinvesting the gains. These stock buys generally have low or no commissions. And for the budget conscious investor, you can purchase fractional portions of hig-priced stocks when you can't afford a whole share. Not every company offers a DRIP, so research carefully.
Resources
"Dividends Still Don't Lie"; Kelley Wright; 2010
Photo Credits
Comstock/Comstock/Getty Images