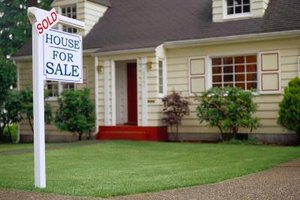 Once you've made the decision to purchase a home, you should take the time to learn more about some of the most common fees you'll need to pay upon signing a purchase contract. You'll certainly need to know more about the escrow money and option fee that apply in your particular situation, so that you can be prepared to pay these additional fees.
Facts
Although prospective buyers are commonly responsible for writing out a check for the both the escrow money and the option fee, these funds represent different aspects of the home-buying process. The escrow money is basically the down payment that a prospective buyer makes before purchasing a property. The option fee, on the other hand, is a check made out the seller that allows a prospective buyer to cancel his obligation to purchase the property at any time and for any reason during the option period. Unlike with the earnest money, the option fee is commonly used only in Texas real estate contracts.
Time Frame
Although the earnest money and the option fee are both submitted by the buyer when he initially makes an offer on a property, each fee is used to cover different periods of time during the purchase process. Typically, once the seller accepts the offer and both parties have signed the contract, the option fee is turned over to the seller. The option fee will then give the buyer up to 10 days to terminate the contract. With the earnest money, both parties must adhere to the terms of the contract from the time that the option period ends through the closing date, which may take up to a month or longer.
Amount
The escrow money may be between 1 and 2 percent of the negotiated sales price, depending on what is agreed upon by the seller and buyer. This means that the escrow money is commonly more than $1,000. The option fee is often much less than the escrow amount. The fee is also negotiated between the seller and buyer and is usually around a few hundred dollars.
Function
Both the earnest money and the option fee are intended to motivate the buyer to keep his promise to buy the home. However, the earnest money is meant more to demonstrate how eager the buyer is to purchase the property. In most transactions, this money will be returned to the buyer if the sale is unsuccessful and the contract states that it is refundable. With the option fee, a buyer pays the non-refundable fee to keep the seller from selling the property to any other prospective buyer during the option period. If the buyer decides to cancel the contract during this time, then the seller can keep the fee.
Photo Credits
Chad Baker/Jason Reed/Ryan McVay/Photodisc/Getty Images