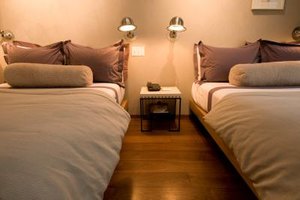 As a general rule, the Internal Revenue Service will not allow you to claim a deduction for personal rent expenses unless it relates to a temporary work assignment. However, there are a number of factors you must consider before calculating your rent deduction since the IRS imposes a number of requirements and limitations.
1. Evaluate whether the assignment is temporary or indefinite. Your job assignment must be temporary rather than indefinite in nature before you can deduct any of the rent payments you make for your housing. The assignment is temporary if at the time you depart for the new location, your employer anticipates the assignment to last one year or less. If your employer is uncertain of the assignment's duration, regardless of how long the assignment actually lasts, it's indefinite and your rent expense is not deductible.
2. Locate your "tax home." The IRS also requires that the location of your assignment be in an area that isn't your tax home. Your tax home is not the location of your permanent residence, but refers to the location where you typically perform work, such as the location of your employer's office. Moreover, your tax home covers the location of your employer as well as the surrounding area, such as an entire city and suburbs that are within commuting distance, for example.
3. Calculate your unreimbursed rent expenses. If your assignment is temporary and outside of your tax home, your rent expenses are deductible to the extent your employer doesn't directly pay the rent or reimburse you for its payment. However, you can always include the rent you pay out-of-pocket if your employer only offers a partial reimbursement.
4. Report your rent deduction on Schedule A. In order to claim the deduction for your rent expenses while on a temporary assignment, you must report it as a job-related miscellaneous expense on Schedule A with the other expenses you itemize. However, if you choose to claim the standard deduction instead of itemizing because it will save you more in tax, none of your rent expenses is deductible.
Tips
Any year you claim a deduction for rent that relates to a temporary work assignment, you need to report the expenses on either Form 2106 or 2106EZ, whichever you qualify to use, in addition to reporting them on Schedule A.

It is also possible to deduct a small portion of your monthly rent payments if you are eligible to claim the home office deduction.
Warning
Schedule A miscellaneous expenses are subject to a 2-percent adjusted gross income limitation (AGI). This means that you must reduce the total of all expenses you report as a miscellaneous expense, not just your rent, by 2 percent of your AGI. The difference is the amount you can deduct. As a result, you are never able to claim a deduction for 100 percent of your rent payments.
Items
you will need
Documentation of annual rent payments

IRS Form Schedule A

IRS Form 2106
Photo Credits
Jupiterimages/Photos.com/Getty Images