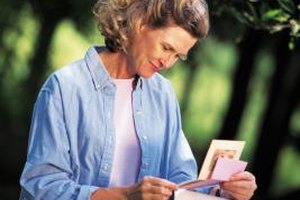 Taxpayers who do not pay their taxes in full before the April 15th deadline for the prior tax year will owe tax, penalties and interest. Unfortunately, any refund available for a subsequent tax year will go toward the tax debt and not to the taxpayer, as the Internal Revenue Service's primary concern is with recovering the tax owed.
Process
Taxpayers who owe back taxes to the IRS can make payments online or mail payments in to the IRS. Make a free online payment by using the Electronic Federal Tax Payments System (EFTPS) website.
Installment Agreements
You can set up an installment agreement with the IRS by completing form 9465 and mailing it to the IRS or logging on to the IRS's Online Payment Agreement Application. Once the installment agreement is in force, you will make equal monthly payments to IRS until the tax is paid in full.
Offsets
Having an installment agreement in force prevents the IRS from taking action against you to collect the debt, but it does not prevent the offset of your refund. Any payments you make, whether structured by an installment agreement or mailed in intermittently, are applied to your back taxes until the tax is paid in full. Any refunds for which you are eligible will be applied to your back taxes even if you are making payments.
Joint Responsibility
If you and your spouse file a joint return, both of you are responsible for the back taxes. What this means is that both spouses are held responsible -- jointly and separately -- for the back tax, interest and penalties that accrue while the tax is unpaid. The entire refund from the joint return, including the portion of overpayment that came from the non-owing spouse, will go to pay back taxes.
Considerations
Once the IRS applies your refund to your past due taxes, you will receive a letter (CP 49) in the mail from the IRS advising you that your refund has been applied to taxes you owe. If you feel the offset is in error, you can call the IRS at 800-829-1040.
Photo Credits
Comstock/Stockbyte/Getty Images